I know I promised yesterday that I would reveal the Mr.'s Man Cave, and my Valentine's date with him but as I was editing the pictures last night I realized I needed to take new ones. I think that I was in such a rush to finish the room and take the pictures that most of them are blurry...I was moving while I took them? Anyway here is a sneak peak....yes the drapes are orange, yes I painted them, and yes they ended up a touch too long (ugh).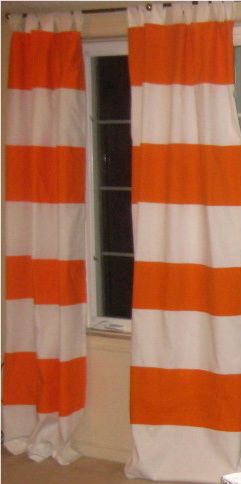 In the meantime I want to wish my Mansy a very Happy Valentine's Day/Weekend/couple of days. We celebrated just the way I like it. At home, all day, spanning over more than just one day. We each planned a date for the other person. Mine for him was dinner with a "Gator"twist. I made his favourite meal which we ate in his new Man Cave, and yes he was TOTALLY surprised. Worth every second of work to make it happen. He ordered wings, nachos and potato wedges. After putting the girl to bed we ate food and watched the Toronto Maple Leafs game. Yes, my Man knows me well. I love spending time with him and eating "hockey" food in front of the game.
Happy Valentine's Day Baby!